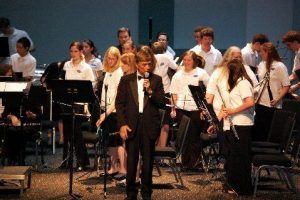 Oklahoma Homeschool Bands (OHB) was founded in the fall of 1998. OHB's founder, Mr. Tom Rye, had a granddaughter who was being homeschooled and in need of a band to play in. Mr. Rye had just retired from the public school system. When you get to know him, you will agree with us that he does not retire well. He was looking for a band to direct and thought that there might be a few more homeschool students that would enjoy learning how to play a musical instrument. The first two Oklahoma Homeschool Bands locations began with a band in Norman and a band in Edmond, both having approximately fifteen students.
Through word of mouth, our program began doubling each year as new students came on board and younger siblings became old enough to be part of the program.
As the program grew, new directors were added along with more locations. Currently, there are multiple locations across the state of Oklahoma and Texas with fourteen directors teaching band, strings, piano, guitar, drumline, and primary music.  
Mr. Rye played an integral part in creating the Heartland Homeschool Bands and Strings Foundation, a non-profit organization designed to support the current Oklahoma Homeschool Bands and Strings program which also includes future homeschool music programs across the region as the organization grows. He retired in the spring of 2022.