Jazz Bands: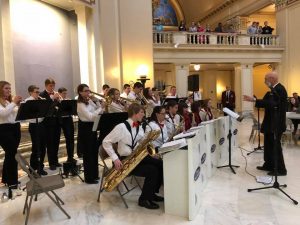 Discovery Jazz is for saxophone, trumpet, trombone, trap set, keyboard, rhythm, and bass guitars. Discovery Jazz is offered in Oklahoma City. It is an entry-level performance ensemble for those who wish to explore jazz music and hope to be in our jazz band in the future.
Jazz Band is for saxophone, trumpet, trombone, trap set, keyboard, rhythm, and bass guitars. Stage Band is our premiere performance jazz ensemble and is by invitation only.  Please contact Ben Fast for details.
Jazz Bands are currently offered in OKC.
Guitar:
Guitar is a course designed to introduce basic guitar playing to beginners, with no previous music study needed for Guitar 1. Essential guitar skills and basic note-reading are taught in a fun, supportive setting that allows students to develop at their own pace.  Guitar 2 will continue to develop skills learned in Guitar 1.
Guitar is offered in OKC and Stillwater.
Piano:
Class Piano is designed for students with no piano experience. Students will learn all of the basics of music including note names, staff, treble clef, bass clef, time signature, whole note, half note, quarter note, eighth note, sixteenth note, and their corresponding rests. Students will spend time playing the keyboards without headphones as a group, and once all students are aware of the basic keyboard concepts, they will use headphones to practice music from their piano lesson book. This is a self-paced class where the teacher will circulate around the room, listening to students playing their lessons. When they have accurately performed their music, new concepts for the next song will be taught and the student will then begin practicing again.
Students will need a 61-key keyboard, stand, and headphones. These will be used in class as well as at home.
Class Piano is offered in Owasso.